When $3 Million Builds a $60 Million Network

Colorado's Region 10 includes six counties – Delta, Gunnison, Hinsdale, Montrose, Ouray, and San Miguel. As recent as 2015, this western slope region only had one choice for Internet. The lack of competition resulted in poor service, slower speeds, and high prices.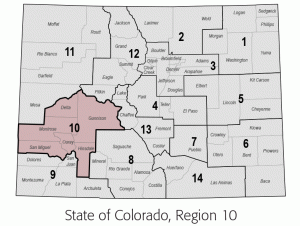 Faced with this, the region decided to build a middle mile network with the leadership and planning of NEO Connect. First estimates for this area, which is roughly the size of Vermont, placed the cost of building a Region 10 middle mile network at somewhere between $50-$60 million dollars.
NEO Connect led efforts to leverage existing assets, negotiating with the region's power companies to use the fiber used for power management that was already in place between substations. Fortunately, a partnership was forged with Delta-Montrose Electric Association who donated their excess fiber to the effort.  Additionally, NEO struck a deal with Tri State to use their existing fiber. These partnerships resulted in reducing the price tag for the middle mile project all the way down to $17 million.
With a less expensive network now on the drawing board, Region 10 with assistance from NEO applied for two rounds of funding from Colorado's Department of Local Affairs (DOLA) department. Additionally grants were secured from an economic development administration grant. With these grants totaling $14 million, Region 10's six counties are currently building what was to be a $50 million middle mile network for $3 million.
Currently NEO is managing the implementation of the build and already last mile services are in the works in both Delta and Montrose counties for Fiber-to-the-Home, gigabit service managed and built by Delta-Montrose Electric Association. This middle mile network also brings the region redundant fiber – critical as the region has experienced day-long outages that have closed businesses, stores, etc. in the past.
For updates on the project and the additional service that is sure to come, visit Region 10's website>>